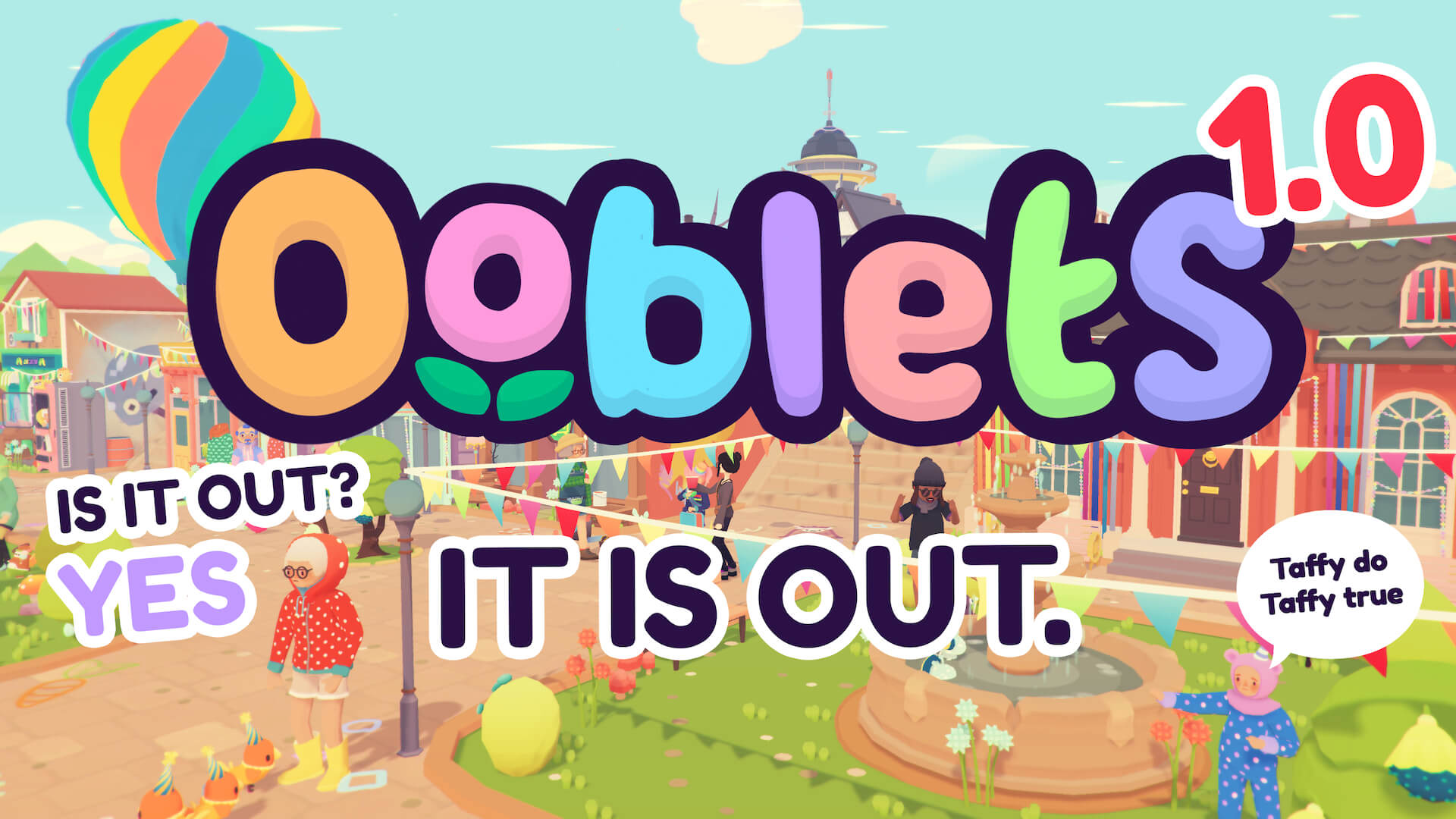 Ooblets is now officially out of early access and launched on the Nintendo Switch!!
You can buy it right now here:

To celebrate, we've put together a "What is Ooblets?" trailer for folks to learn about the game here. It's narrated by our very wonderful pal Lizzie (LDShadowLady).
New players are hopefully in for a really great time and early access players will be able to experience a LOT of new stuff. A LOT. There are new places to visit, a conclusion to the main storyline, massive balancing changes, new customization stuff, and so much more. Check the bottom of this post for a changelog of just some of what's new/changed.
We've been working on Ooblets for the last six years and it's so exciting to finally reach this milestone. And don't worry, we're not done working on the game! Besides bugfix patches, we're still planning on adding more content going forward. We think up new and progressively goofier stuff to add to the game every day.
The biggest thanks
Thank you to everyone who has played the game in early access or waited patiently for 1.0/Switch.
There are so many people who have contributed to Ooblets and we can't thank them enough. From Patreon supporters to the people who have worked with us on art, animation, music, porting, release management, contracts, bookkeeping, and all the many things that make up game development—Ooblets couldn't have been made without you!
Family and team update
Back when we launched the 0.4 Nullwhere early access update, we also announced that Rebecca and I had a baby! That was about two years ago and he's been the center of our lives ever since.
He paints and draws, rides a balance bike, is obsessed with construction vehicles, tells us he sees ghosts everywhere (thankfully friendly ones), and is just an overall joy. We love watching him discover the world and are so glad he's a part of ours.
We've also spoken a few times about how the Glumberland team has grown in the past two years. We've gone from just Rebecca and me to now six people! We're so proud of everyone at Glumberland and appreciate all the hard work, unique talents, and personality they bring to everything we do.
That's all for now!
Thanks again so much and we hope you have a great time playing Ooblets!
Changelog
New region - Tippytop
3 new secret visitable regions
Secret ooblet island system
Completion of overarching storyline
3 new ooblets
Over 30 new NPCs
~100 new daily NPC interactions
Over 200 new clothing/accessory items
Gleamy and uncommon variations added for (formerly known as) elswair Ooblets
Battle moves added for (formerly known as) elswair Ooblets
Wider variety of player styles added to initial character creation options
World map/overworld added
Oobnet system added
Added new more-info UI to figurine system
Dance battles rebalanced

Made NPC battles more challenging and gave many NPCs their own custom decks
New dance battle cards added
Existing dance battle cards improved/rebalanced
Clubhouse one-time-use cards improved/rebalanced

Rebalanced move unlocking
Changed Dance Barn rewards
Inventory item stacking

Can split stacks or grab/drop single items!
Double select an item to condense all of the same type

Key/Input rebinding (on PC only)
Performance improvements
Added improved treabie requirements to Mamoonia Ooblets
Big polish pass on Mamoonia environment
Big polish pass on Mamoonia NPCs
Lighting improvements for Nullwhere
Big performance pass on Nullwhere
Lighting improvements at nighttime
Recipe-getting system rebalanced
Lots of cutscene polish and animation improvements
Lightning effects can be turned off for photosensitive players (on applicable platforms)
Large UI mode
Figurine collection rearranged and finalized
Going-to-bed sequence polished and improved
Prevent player from obtaining more than 3 one-time-use cards at a time
Autosave optimization and save file size reduction
Battle system visual and audio improvements
Made XP earn / level up sequence at end of battle much faster
Rebalanced wishywell
Changed sprinkler descriptions
Added spicyspears to heater recipes
Updated some Nullwhere cutscene dialogue gestures and some changes to where NPCs stand
Changed around what ooblets Nullwhere NPCs have in battles
AI no longer plays Rig-a-jig card
AI will only play some cards once per battle
Added new treabie items for gumple and lickzer
Changed chickadingding's treabie requirements
Lowered nurny cost of 3D printing
Removed some sit spots throughout the game that would cause NPCs to get stuck or were easily interacted with unintentionally
Prevented some more ooblets from showing up in 1v1 tournament battles
Many ooblet accessory positions and sizes fixed
Upgrading house has new cutscene and animations (currently only live on PC/Xbox, will be live on Switch in 1.0.20 patch)
Removed energy regain while sitting
Improved interaction detection of nearby objects
Updated the Almanac "Found Items" tab to include more fitting items
Updated the Almanac "Crops" tab to remove unused crops
Updated the Almanac "Recipes" tab to tell you how to unlock your locked recipes
Cooking and crafting stations now describe where to unlock your locked recipes
Fixed NPC "Find Ooblet" quests breaking if not accepted right away
Made Pro Display Cases have transparent glass
You can now also use the door for the player shop to close it
Allowed all UI scrollbars to be controlled by mouse
Updated farm to show more objects with the icy effect on snow days
Correctly show the on-screen keyboard if swapping inputs when you need to input text
Made the 3D printer display the cost in the UI
Battle card select noise now plays if using mouse, not just the with the direction input
Interaction sounds don't play if you don't have enough energy to interact
Fixed various quests descriptions to have similar formats
Grey out inventory items in the deposit UI if you already met the required amount
You now have to hold the confirm button to delete a save
Added descriptions to all wishywell rewards that were missing one
Nullwhere is no longer a starting Tinstle Task
Updated collisions in all regions
Fixed Tinstle Task starting indicators to not glitch around when spawning
Items made with the Crunchster and Swooshler can now be sold to Meed/Dubble
Volume settings now have a smooth decrease instead of a harsh dropoff
Added missing portraits for any NPCs who were missing their portraits
Watering can upgrades now show the right name and description
Removed duplicate Millew journal page
Impossible daily quests no longer show up
Player shop now tracks selling crafted items
Balloon shouldn't leave ooblets behind or trapped inside, maybe, but pantsabear's legs do still stick out the bottom
Nullwhere tower door animation fix
Ooblet accessories UI selects first accessory when opened
NPCs don't leave ooblets behind when they run off screen
Fixed typos in Outgrid and Tinstle dialogues
Fixed some cutscenes that were missing gestures or cleared the background NPCs when they shouldn't
Fixed the description of the fixing up Mossprouts quest that said 'open Frunbuns clubhouse'
Moved Padrig in the salon so you can see his dailyo indicator
No longer able to walk behind the closed player shop door
Hiding ooblet quests no longer spawn them in Badgetown areas that aren't unlocked yet
Energy meter shows the correct weather/time when you eat an inventory item
Can no longer escape the pause menu while exiting your save
Fixed door transition getting stuck for the Port Forward tower
Fixed the player creator showing the wrong info if you exited and re-entered
Fixed Mimpins quest not updating as you added to the deposit box
Fixed door transition getting stuck for your house
Fixed z-fighting in Badgetown
Fixed NPCs getting stuck in building and stairs in Badgetown
Fixed the energy meter overlapping incorrectly
Grumboire can no longer open the same time as the item receiving UI
Mail UI no longer shows unused button prompts
Instruct player to remove hat before changing their hairstyle
Added item numbers for your furniture inventory
Player club can now be selected with keyboard
Deposit UI descriptions no longer hidden by other UI
Removed outdated parts of the ooblet level up UI
Fixed farming tutorial to not be skippable and show the proper hotbar tooltips
Updated furniture collision to fit better
Added a max number of tasks that are shown in the main HUD
Made important story quests show as starred and pinned to the top of the task UI
Fixed sleeping animations that had foot-drift
Fixed flickering lights in Nullwhere battles
Fixed issue where player can escape bounds of player farm during tutorial
Fixed issue where player can soft-lock themselves into fishing tutorial by deleting their bait
Duplicate ooblets show on the "Today's Oobs" screen if they're from different regions
Customers in the player shop can now ask for event items
The farming cursor now turns red when you're busy interacting
Added ability to ignore all controllers besides the specified one