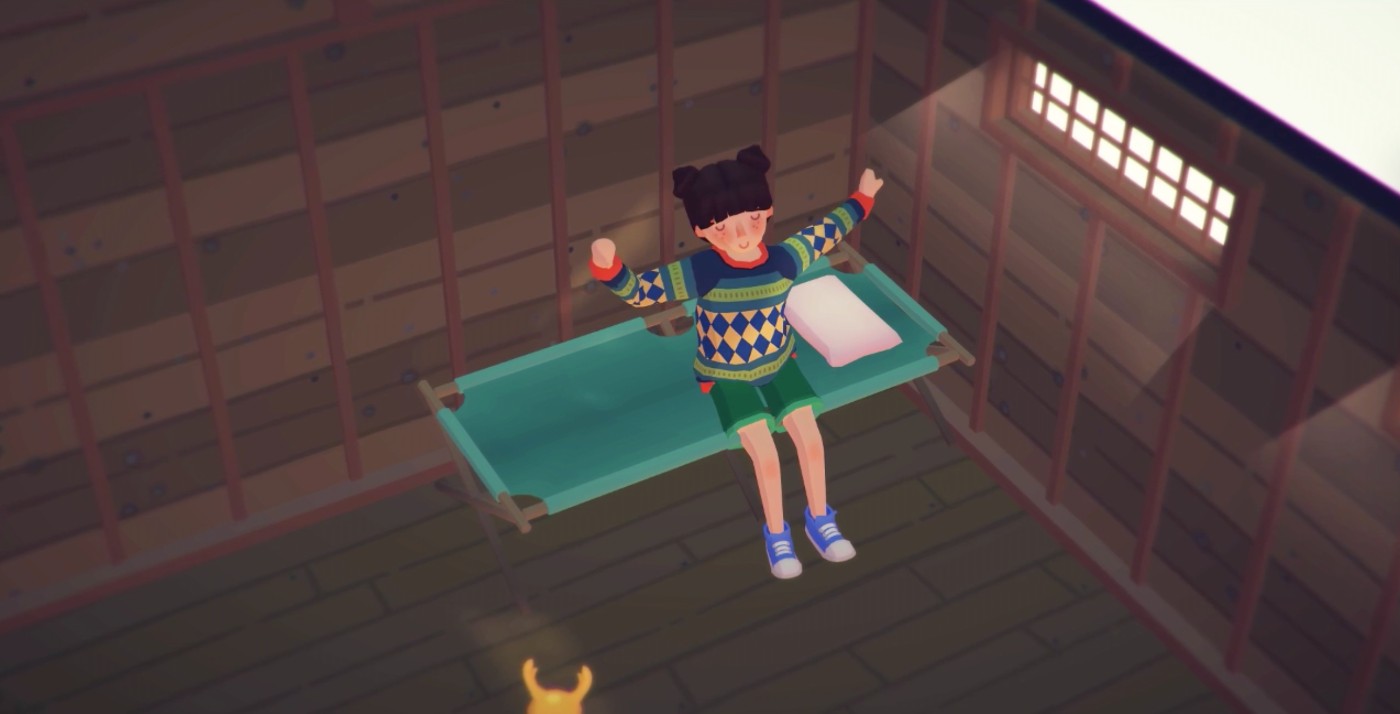 First off, if you've been following along with Ooblets development, supporting us through Rebecca's Patreon, being a part of the community, or sharing our work with your friends, thank you so much! You probably have no idea how much we depend on all of you to keep us going.
And if you're new to all things Ooblets, you can read through all our devlogs, check out our videos, wishlist the game on Steam, and follow us on Twitter/Tumblr/Facebook/Reddit.
So, 2018…
Ooblets has grown SO MUCH this past year!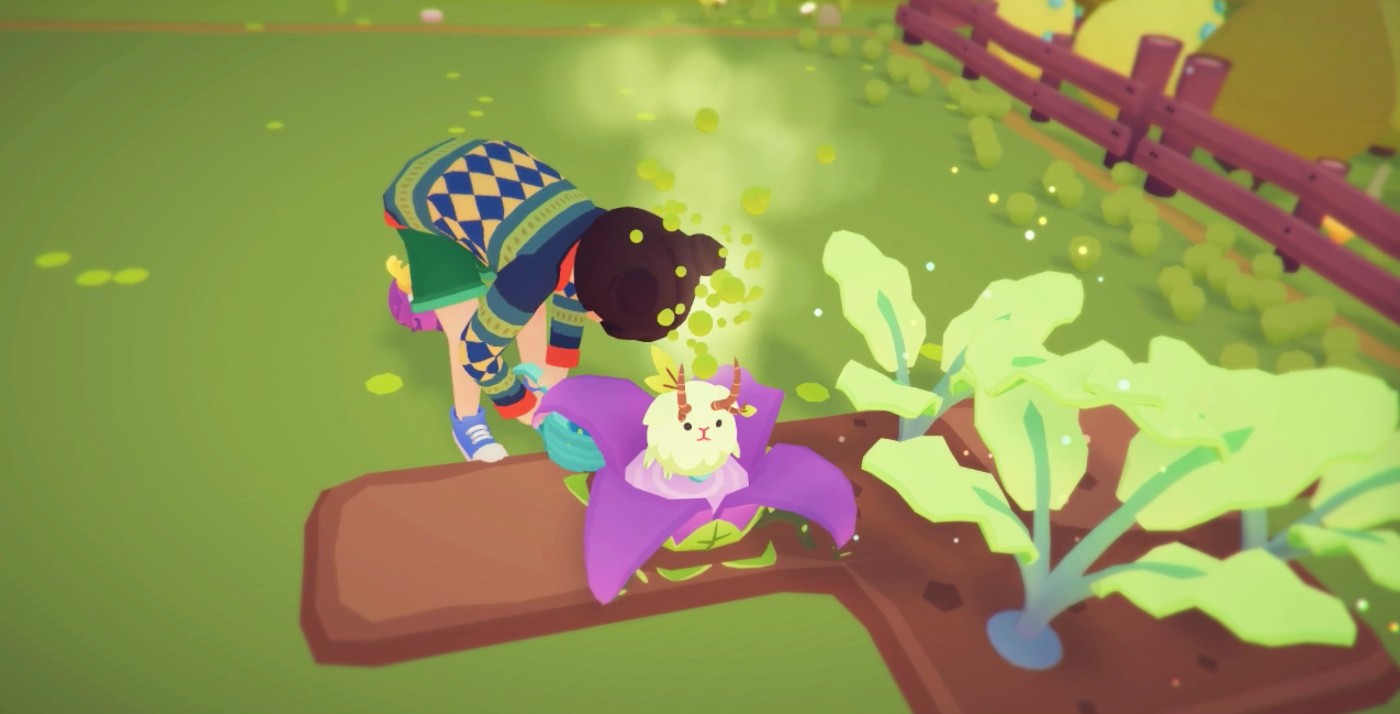 To give you a peek behind the curtain, at the start of 2017, we were feeling pretty worried about the whole game.
Nothing worked together in a compelling way. The battle system felt out of place and boring. We only had about 2 characters. The extent of the gameplay was ~2 hours max.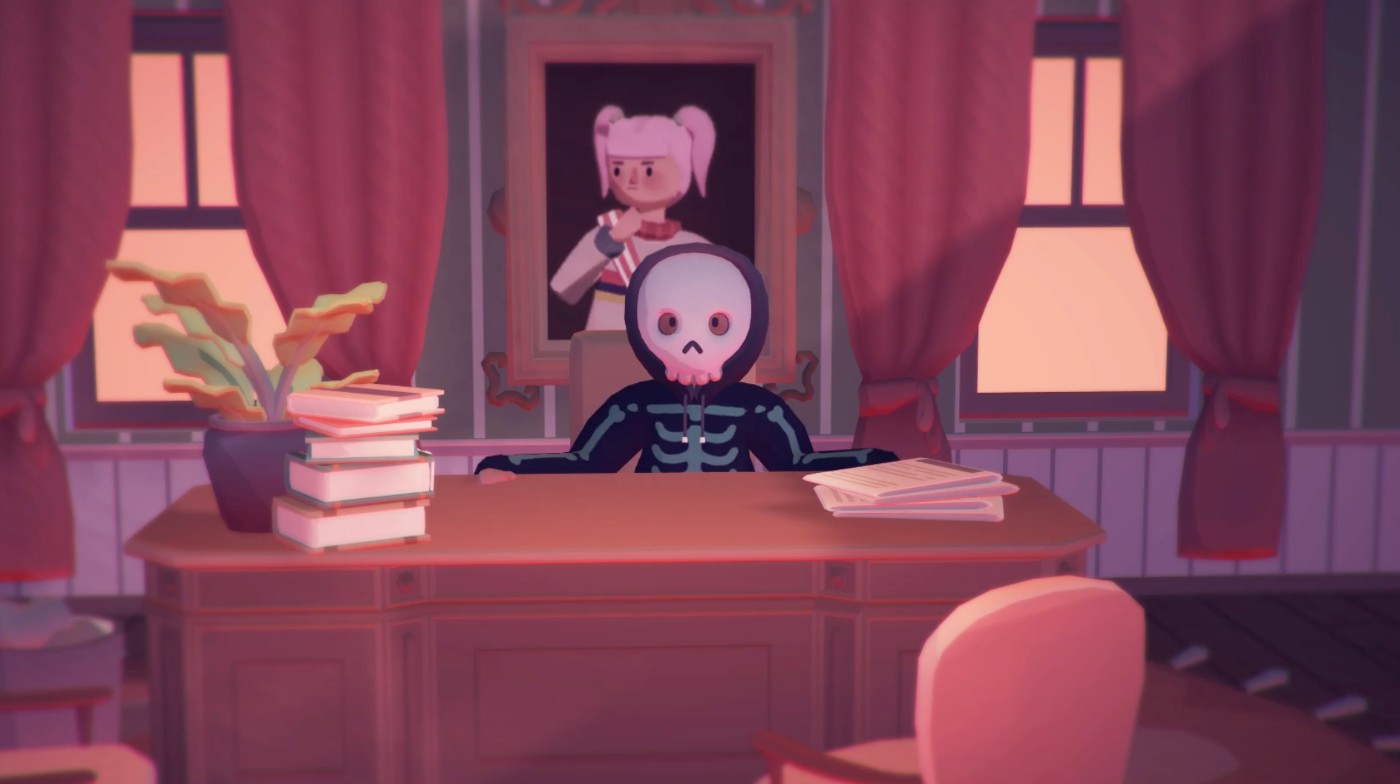 Looking back on everything we did this year and the current state of the game, we're feeling so much better. The game actually feels fun to play! Everything is falling into place.
A big chunk of our year was spent working on the core battle system, which is at least a third of the gameplay. It took a huge time investment to get the new dance battle mechanics in, but it was so worth it and we're really proud of it all.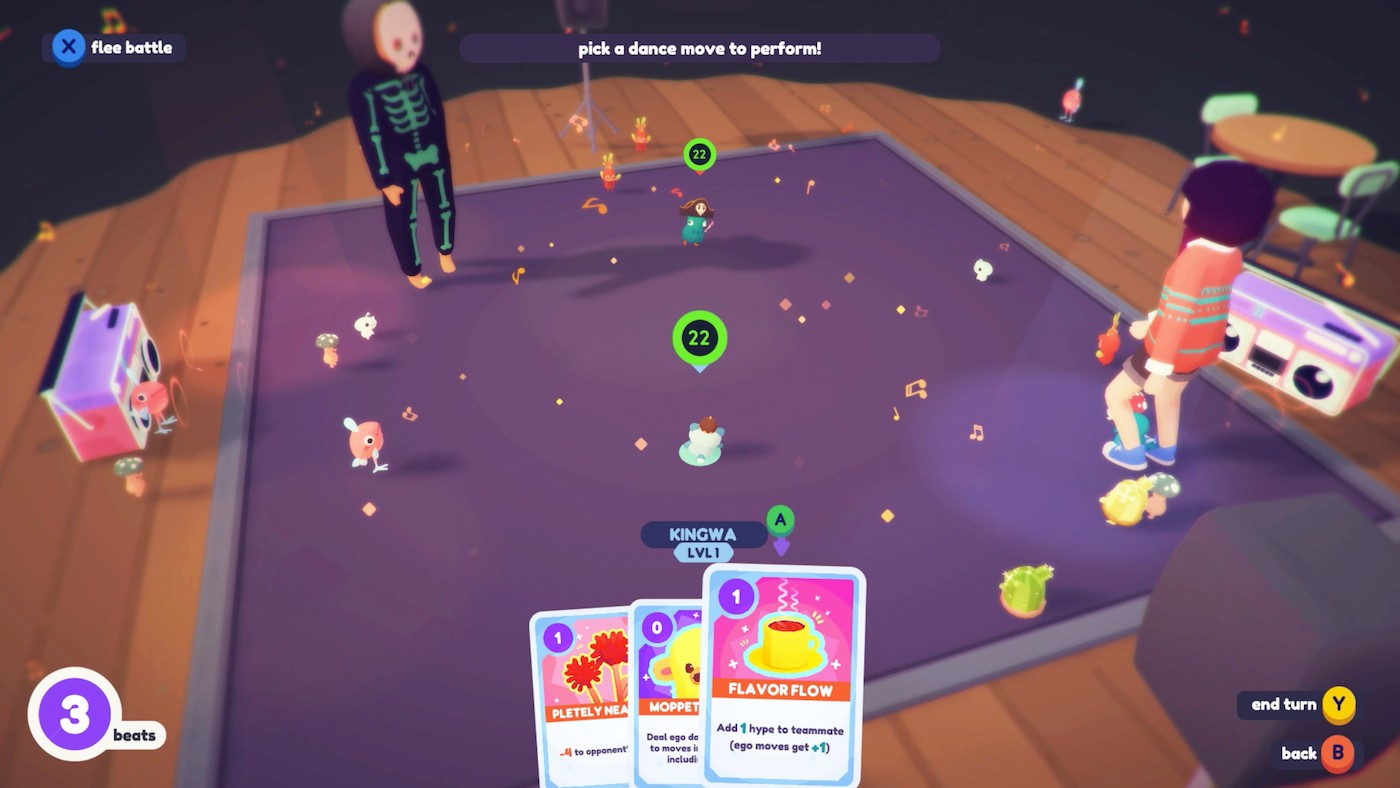 Surprisingly, some people weren't happy when we announced the switch from normal RPG style fighting battles to dance battles and other folks were unhappy when we introduced the card-game interface to it, but if they could have played what it was before compared to how it is now, there'd be no question we made the right choices.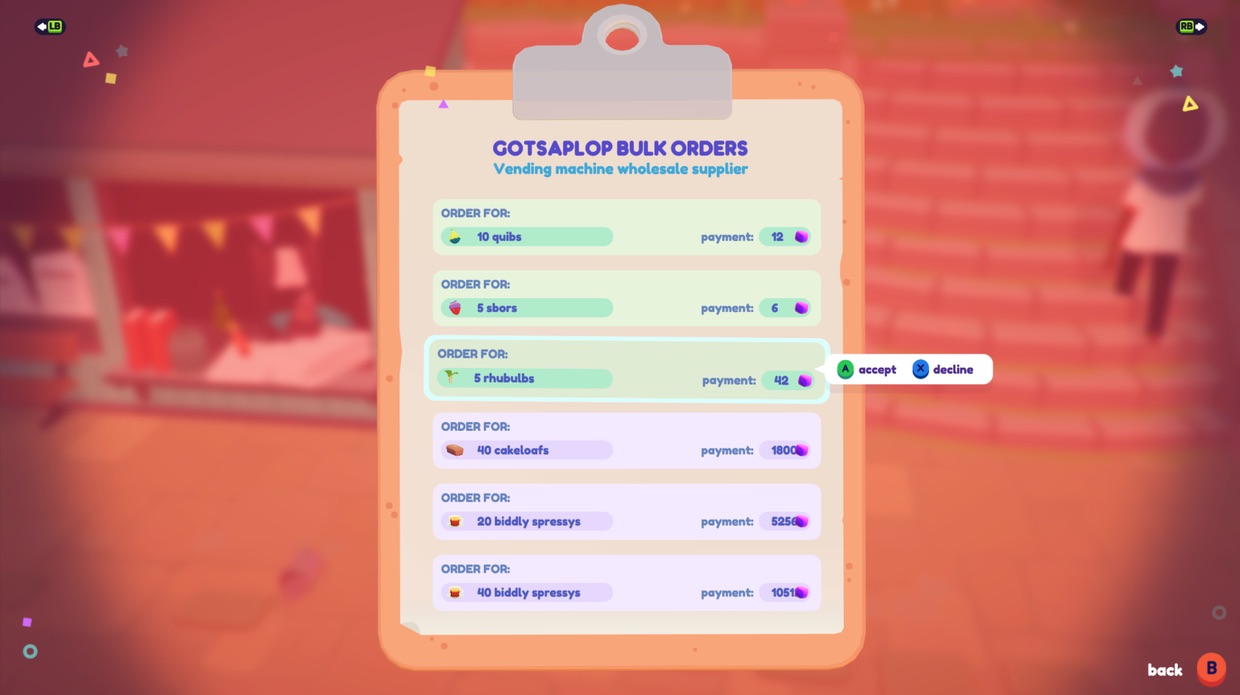 We also didn't have any cohesive quest or progression systems in place until this year. Now we've got an overarching plot, the Gotsaplop system (which is like a quest board), the Hankerbot (which is like quests meet gift-giving), character friendship levels, region-based stories, a badge earning system, dialogue-based quests, and a Town Projects system that ties a whole bunch of systems together.
Let me try to list all the big things we did on the game throughout the year:
Major progress made in 2018: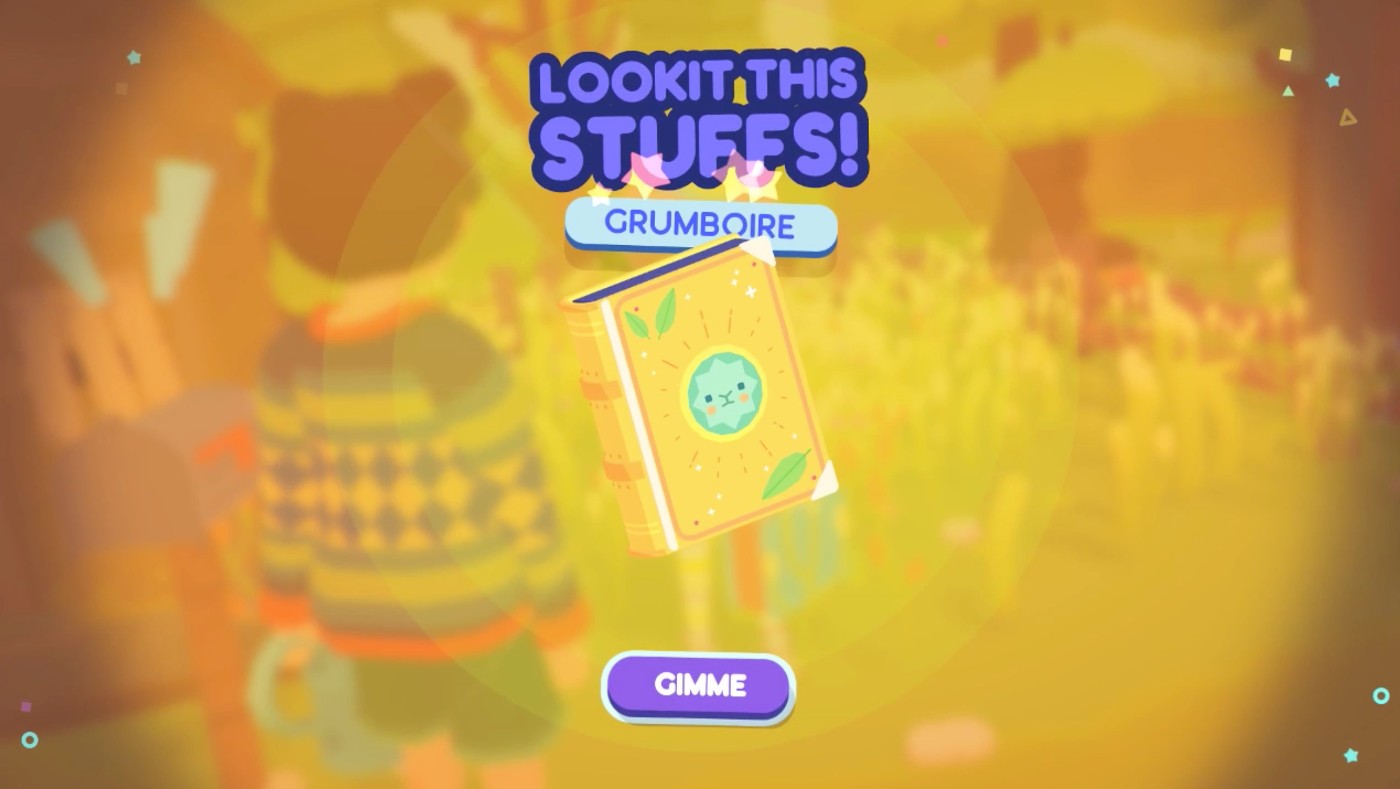 Switched battles to DANCE BATTLES!
Implemented card-game-style dance-off gameplay
Loads of new ooblets and NPCs (including everyone's new fav, Legsy)
Grumboire (the core gameplay UI panels)
Crafting machines & a new oven system
Lotsa content for player/house/ooblet customization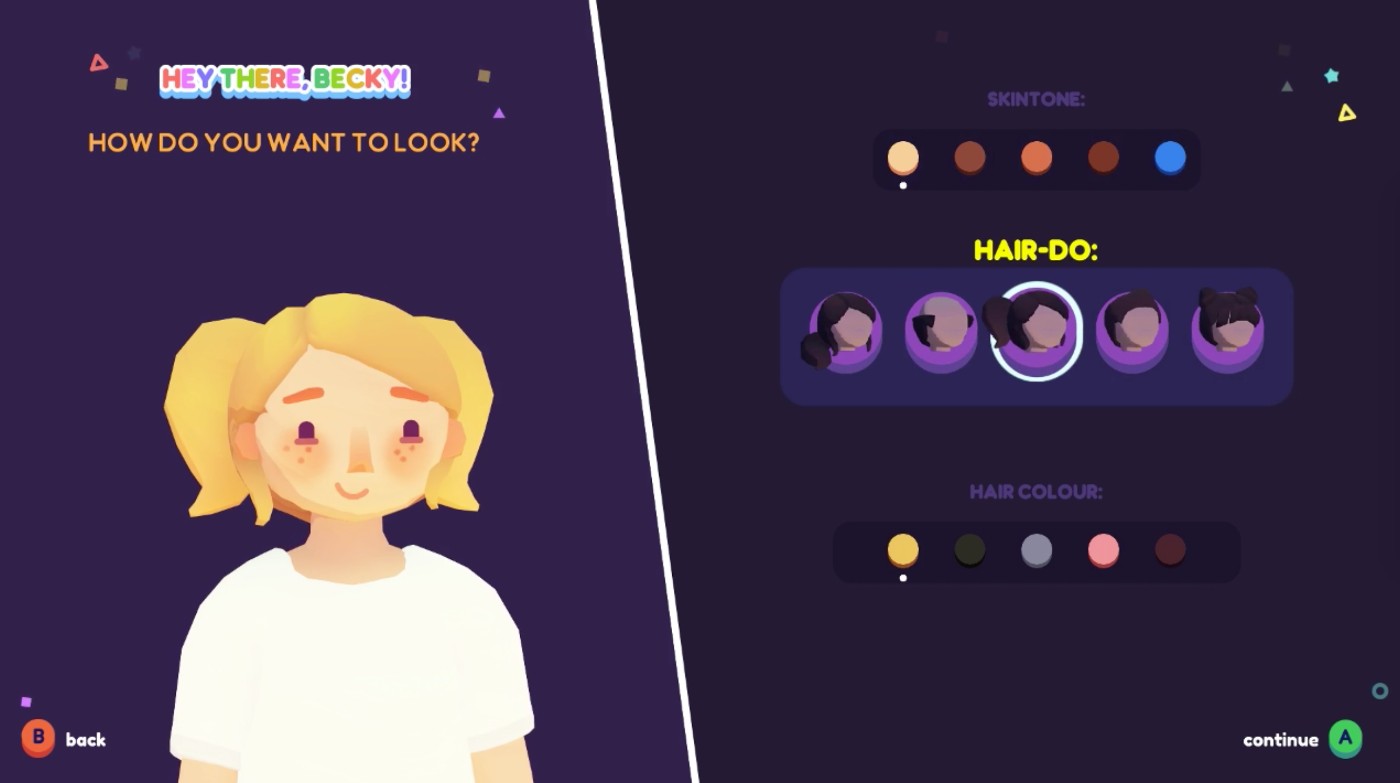 Gleamies and rare ooblet variations
Town Projects system
Basic introduction tutorials
Mailbox system
Dance Barn
Wildlands
Foraging
Badge system
Selling items to NPCs
Hankerbot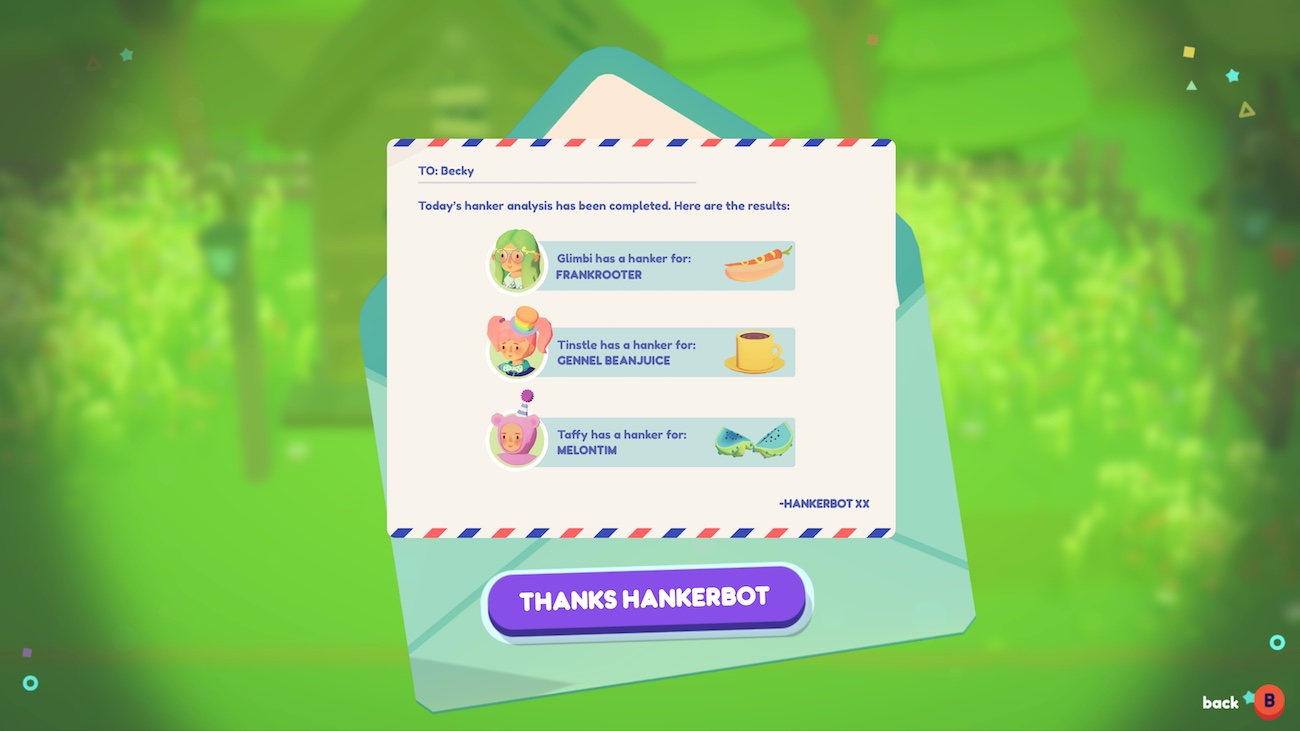 Gotsaplop
Friendship levels
Ooblet seed capture system
Player energy
Farm expansions
Cutscene system
Custom ooblet names
Farming mode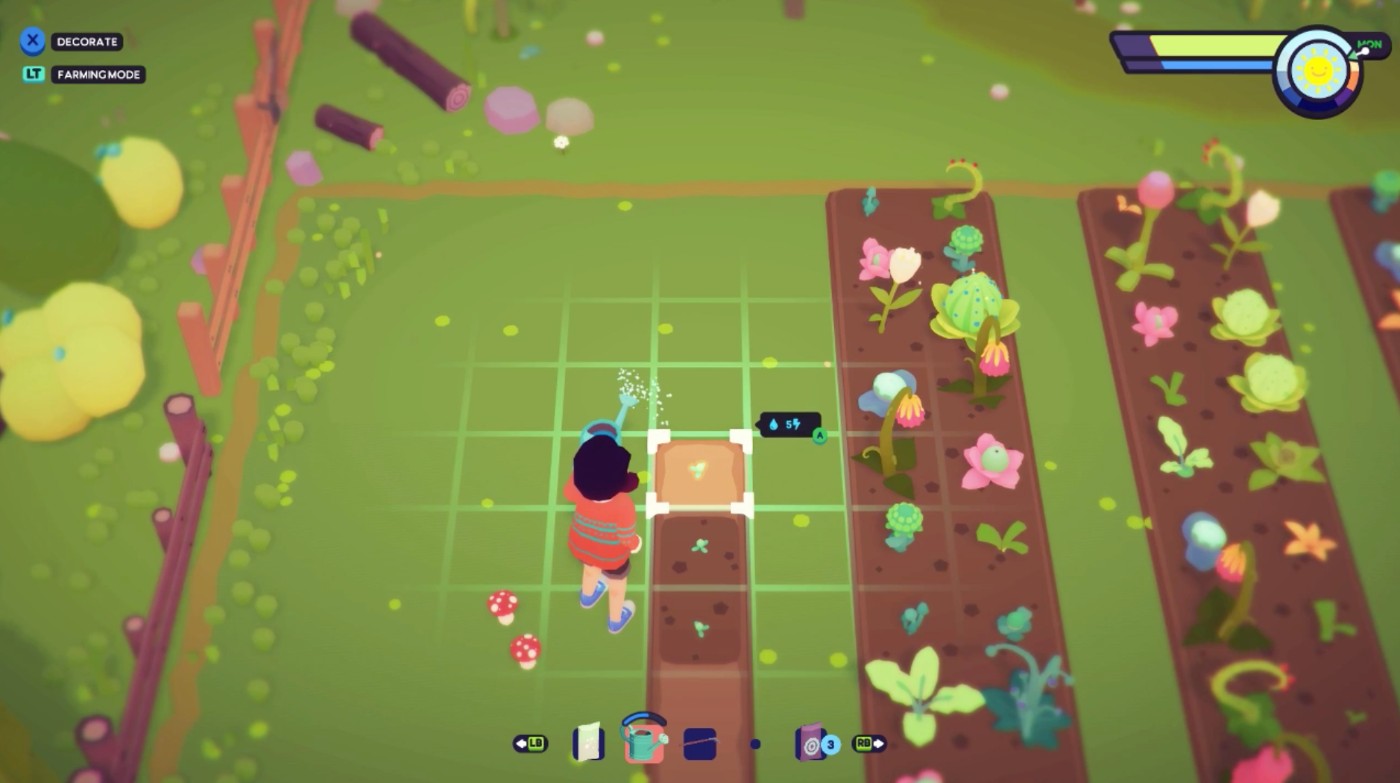 Farm layout bonuses
Overarching storyline
Wrote most of the dialogue
We got a small one-room office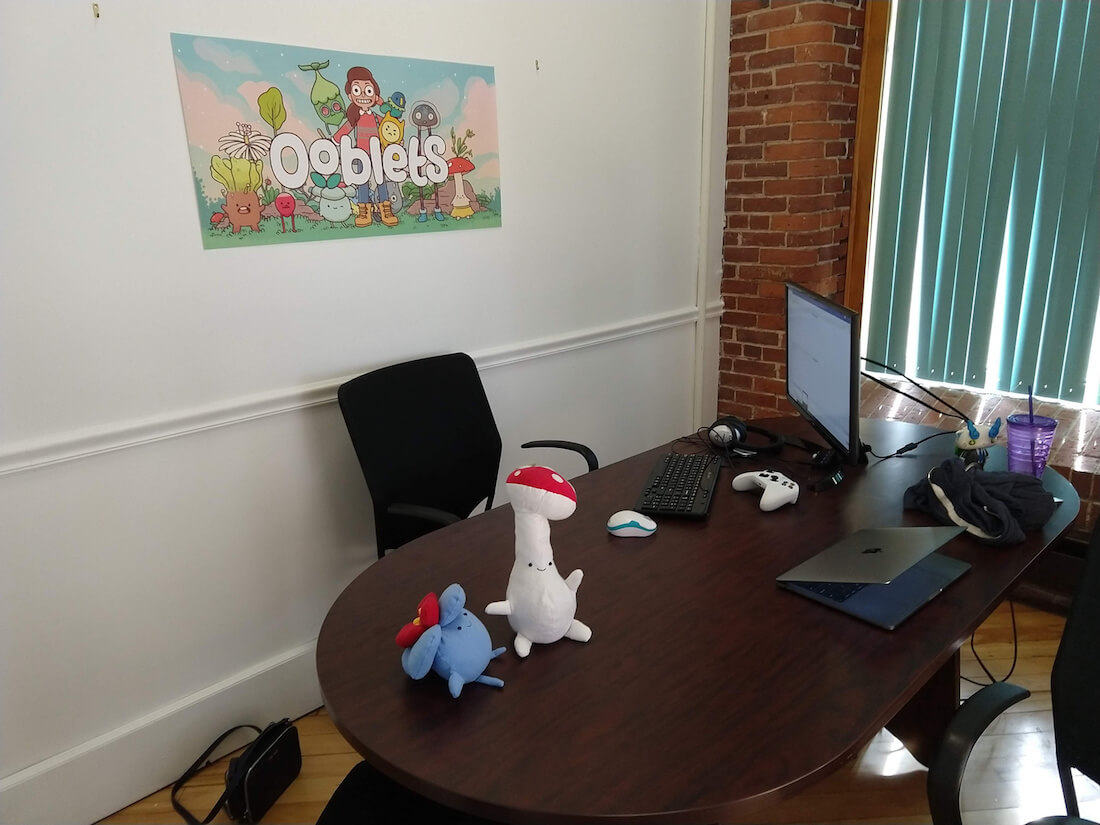 On top of all that, we showed the game off at PAX West, XOXO, and the PC Gaming Show at E3. We hit some big milestones like getting over 40k followers on Twitter and 1000 patrons on Rebecca's Patreon.
At one point I accidentally made a viral tweet (I was just trying to replace my pinned tweet):
Hi I'm Ben and I'm making a game called Ooblets about collecting creatures and dancing and farming and stuff and I think you might like it 💗 pic.twitter.com/Yrzg0VJYhw

— perplamps (@perplamps) December 3, 2018
We also released a new trailer showing off some of our new dance battles:
What we still need to do:
There's sooo much we still need to finish! Here are a few things off the top of my head:
Optimize for Xbox
Pass certification
Complete regions (dialogue, level design, scripts, NPCs, balance)
Implement ~50 more moves
Put in particles, animations, and card images for each move
Implement major story quests
Improve NPC systems (adaptive and randomized interactions)
Finish keyboard and mouse support
At least 5 more main character dialogue sets
Move unlock system for ooblets
Overworld design
Better ooblet quests
Shopkeeping system
Oobnet stuff
Restart our mailing list
Game testing
We probably won't get around to all of those before we do our initial launch, so we're prioritizing things that get us to a generally playable state first.
Things that weren't great
Not everything this year has gone well.
The worst thing that happened was that Rebecca's childhood cat died just recently. Yoyo had a very long, adventurous life and was a sweet little baby who loved to curl up on people and dissect mice (although not at the same time, thankfully). We're going to think up a way to include a monument to her in the game somewhere.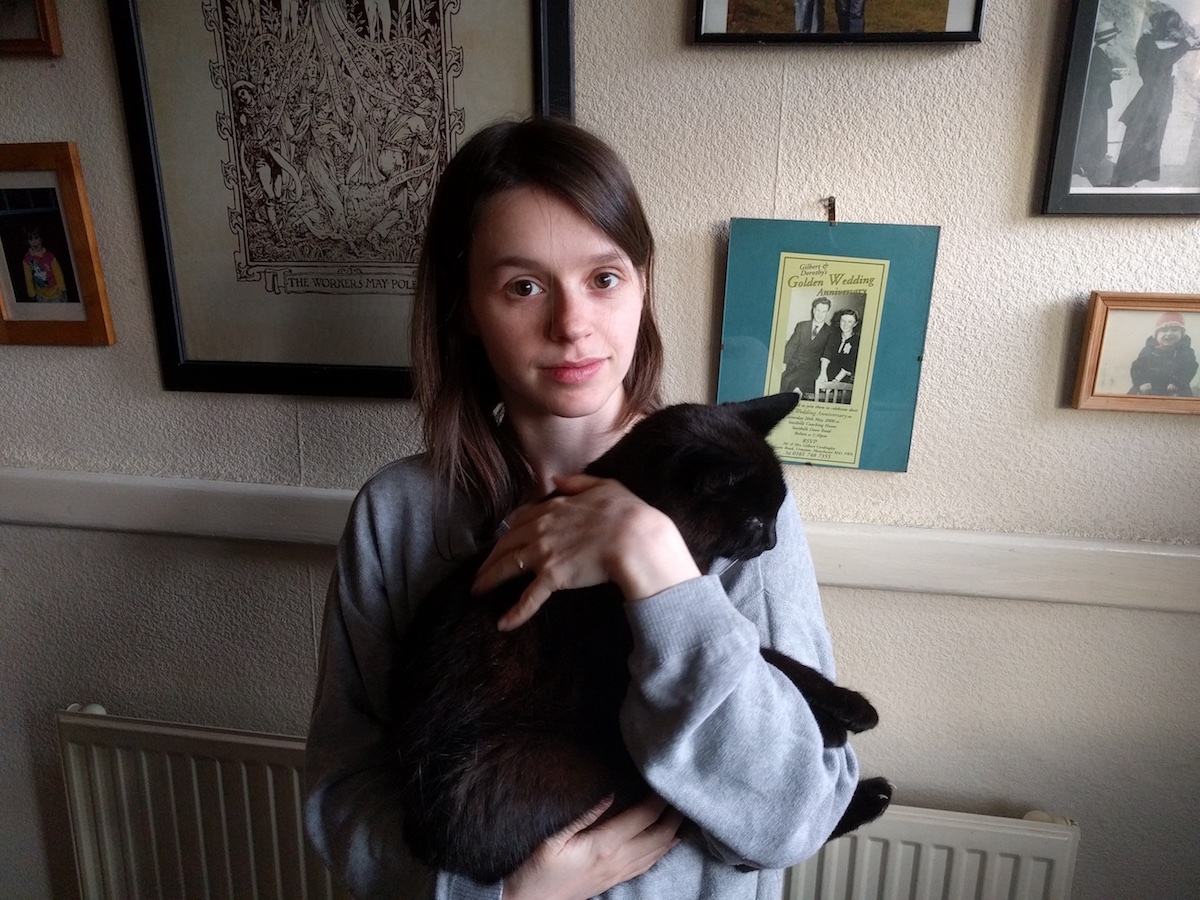 Throughout the year, we've gone down some wrong turns and let a few things slide as we've prioritized other stuff. Here are some things we didn't do well this year:
We don't have one. We'd really like to be a part of one some day. This year, we've barely even tried to make friends or do social things. If you think we might have been cold or aloof to you, it's proooobably nothing personal (although it could be who knows??).
Our apartment is a mess. It's never not a mess. I don't know how two people manage to create so many dirty dishes, so much laundry, so much trash. We have this new thing where when we come back from grocery shopping, we only put away perishables and leave everything else in the middle of our floor. It's like a floor pantry. If we had any friends, we could never let them come over. That said, I did go to the dentist this year (no cavities!).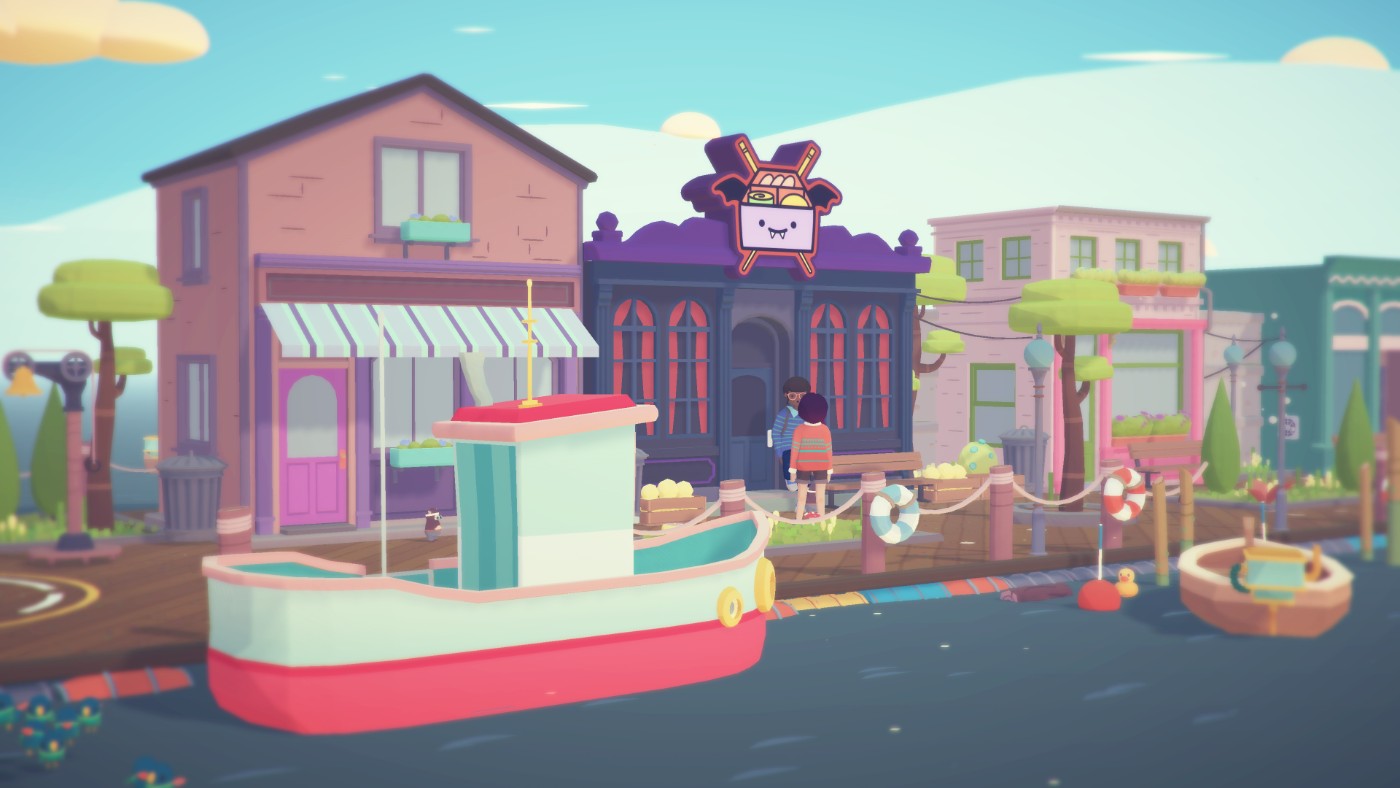 We worked really hard on regions this year but haven't actually managed to finish any. We keep changing our minds about how they should be laid out and function and it creates never-ending work. At a certain point we just decided to focus on the gameplay within Badgetown and leave finishing the regions to 2019.
We used to spend a lot more time coming up with content for social media but we've refocused everything on finishing the game. I used to bother Rebecca all the time to make gifs and posts and stuff, but we decided there's more important stuff for us to focus on this year. The result is her Twitter, Tumblr, and Instagram have been a bit of a ghost town. Hopefully we can find some time to get back in the swing of things after our initial launch.
I used to try really hard to respond to every single person who emailed us, tweeted at us, etc., but the rate of messages this year has been a bit too much for me to stay on top of. I've given up on trying to respond to questions that are answered on our FAQ or cause me existential dread ("will this game be free??"), so I hope people don't think I'm too rude when I don't reply or take a while to reply. I also forget about things all the time, so if you reached out to me and I didn't respond, you should remind me about it!
Release date
You should know that we want Ooblets to be out sooner than anybody. Game development is stressful, we're low on funds, we're worried people will lose interest, we're worried someone will make a crappy clone, we don't want to be working on Ooblets when we're in a nursing home, etc., etc.
I wish we were just being perfectionists holding off on release until things were perfect, but that's not the case at all. Ooblets has a massive scope but we've only got one programmer—and she doesn't like it when I stand behind her and say "Code it faster! Code it faster!". The game just isn't in a playable state just yet—but it's pretty close.
We're really pushing to get something out the door in the first half of 2019, but our estimates have been way off in the past so please don't hold us to that. But it's a goal. I'll hopefully have a better estimate once we get some initial testers playing, and I'll be sure we're transparent about how far off we think we are.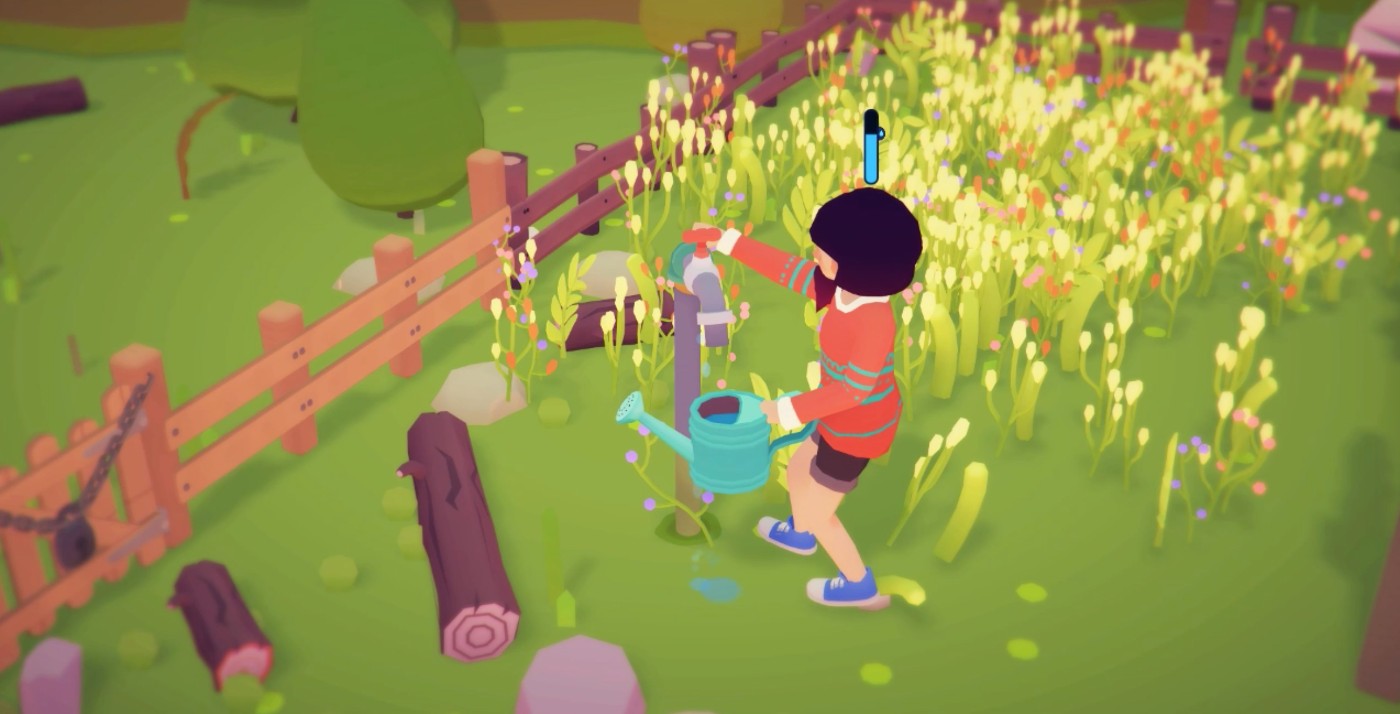 Thanks!
Thanks for reading this, and we also wanted to give a big thanks to the freelancers who have done work on (or related to) Ooblets in 2018:
I intentionally left out adjectives on the above because otherwise we'd run out of space going on about how great they each are, but suffice it to say, they're all incredible and we're so lucky to have been able to work with them! Go follow them and hire them for all your lucrative projects!